<![if !vml]>
<![endif]>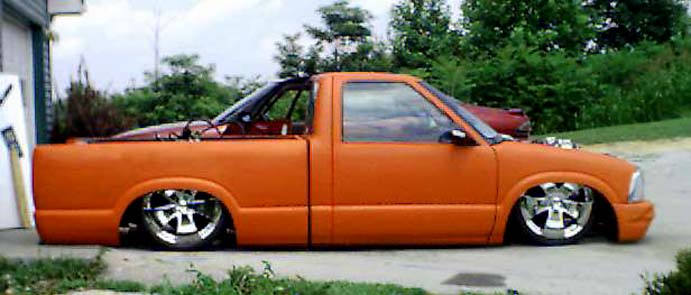 OWNER
Brent Hibbard
YEAR / MAKE / MODEL
1994 Chevrolet S-10
EXTERIOR
Shaved molding, trim, emblems, door handles, tailgate handle, tail lights, tail gate handle, hood squirters, and wipers. Now running CLEAR windows with blue flames. Clear third brake. Painted corners. Polished bow-tie. Chrome grill. 2000 Oldsmobile Bravada Bumper cover. ///HISTORY\\Truck was factory silver repainted Indigo Blue with a black pearl and silver metal flake.(((NOW COMPLETE Orange PRIMER))). used to have Tribal hood graphix (((chrome green faded into silver NOW GONE))).
INTERIOR
White dyed dash, blue and white door panels with blue flames and silver pin strip. Plus all interior if it was plastic has been painted white with blue flames. Molded 6inch monitor into glovebox. PS2 inside glovebox.
STEREO / MISC
Pioneer head unit. Infinity Kappa 4x6 plates, Infinity Kappa two-way 6 1/2's. 10w6 in custom fiberglass inclosure. Avitol alarm with remote controllable juice, and remote start.
SUSPENION
3 inch Belltech drop spindles, notched A-arms, 2-link, round c-notch makes tuck'n 22's possible, 8 inch cylinders front, 12 inch cylinders (hime jointed) rear. 2 1/4 ton hoppin coils up front with 1 ton mini coils in back. 2 pumps, 4 dumps. 16 switches, 4 31series Deep cycle batteries (48 volts or 5400 cranking amps total) connected with 4gauge stinger wire. Batteries mounted in the bed. Chrome pumps, Polished dumps. Custom one off switch box with billet switch extensions and "HIT IT, DON''T STROKE IT" sticker. Body Drop Completion Date 4/12/02 ((PICS POSTED WHILE UNDER THE KNIFE THE PICS ARE PROGRSS MADE AFTER 18 HOURS OF WORK)) IT''S DONE NOW. Been done for over four years and still no progress, I need to get off my ass. It will be around soon enuff. .
WHEELS / TIRES
Right now sittin on some chrome twanky's. But hopefully will have 22's before too much longer.
ENGINE / TRANNY
4.3 V6 Vortec TBI (now blown up). Shaved heads, bored over 30thousandths, ported and polished, with larger injectors. 8.5mm Plug wires, Boss Platnuim 4 Prong Plugs. Electric fan. 2 1/2inch exhaust pipe ran to a 3Aracing dual outlet polished muffler. Automatic transmission rebuilt with stall and shift kit. Painted acc. Aegean Blue and Pure White. Had to remove heat, air condition, ABS system, wiper motor, cruise control, belt driven fan, and rerun all wires for the body drop to snugly tuck the 20''s in the front. 4.3''s are fun.
FUTURE PLANS
Well there are a bunch more that I need to do. First off a new motor, probably just gonna put another 4.3 in. I have a wrecked camaro with a motor, tranny, computer, and harness. But I don't know if I want to get in to all that just yet. Finish up molding the ass shut. Paint this bitch, throw some 22's under its ass and drag it's balls off.
PICTURES