Steve's Accord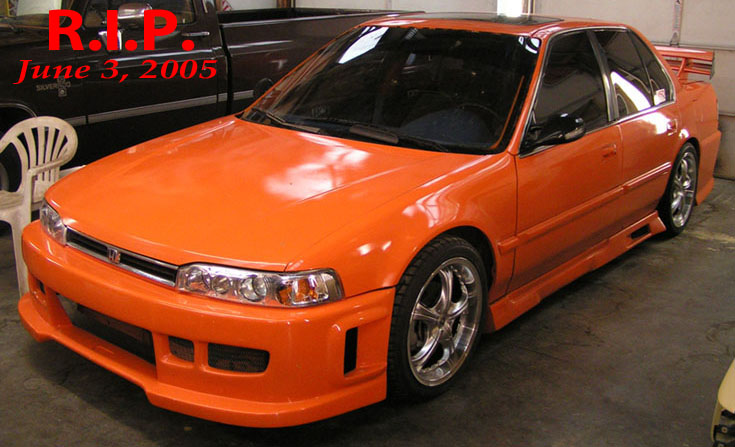 Steve Hampton
1991 Honda Accord

Black Widow body kit, double stack wing, M3 Mirrors with blue LED. Euro clear tail's. One piece JDM projector headlights. Mesh Grill inserts. Orgasim Orange Paint, shaved antenna. 1993 Accord trunk lid.
Blue and Purple Vinyl. Orange tweed. Painted dash trim and door trim. Dyed blue dash. Custom sub enclosure and custom amp rack wrapped in orange tweed.

Alpine 9831 cd/mp3 head unit. Type R alpine 15inch subwoofer. Orion HCCA 2250 amp. JL Audio mids and highs.

Coil overs on all corner with Ingalls extreme camber kit.

18x8 Silver Racing wheels wrapped in 225/40r18 Nankang tread.
2.2 4 cylinder non-Vtec converted to 5 speed. A little work done to it. Neuspeed Sway bar. Cold air intake. Stage 2 clutch. Gell cell battery
Looks like none as of right now. A 16 year old boy tried to shoot across the road in front of Steve and T-boned the honda. Steve received a broken leg, fractured skull, collapsed lung, and a huge gash in his head from this. Some people are too stupid to be on the road. It took many years to build the honda the way Steve wanted it. Now it's taken away in the blink of an eye. Sounds like a shitty deal to me.


OLDER PICS